Ottobre è il mese che si identifica col colore rosa per la campagna di prevenzione del tumore al seno.
Europa Donna Slovenia, l'associazione slovena per la lotta al tumore al seno, opera nel Litorale da due anni, per ricordare quanto siano importanti prevenzione e sensibilizzazione sulla malattia e il trattamento.
Maggiori informazioni nel pieghevole pubblicato in lingua italiana.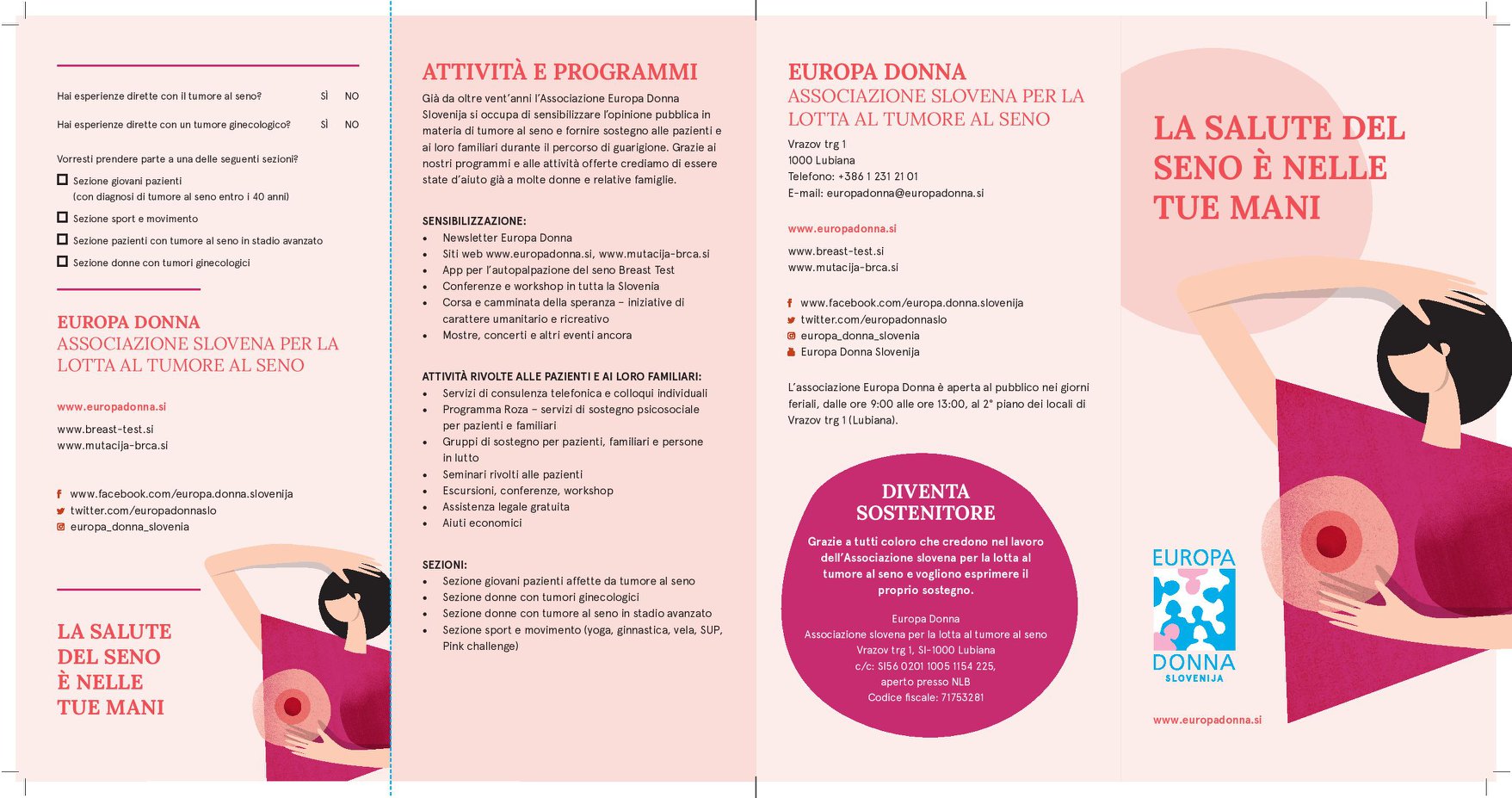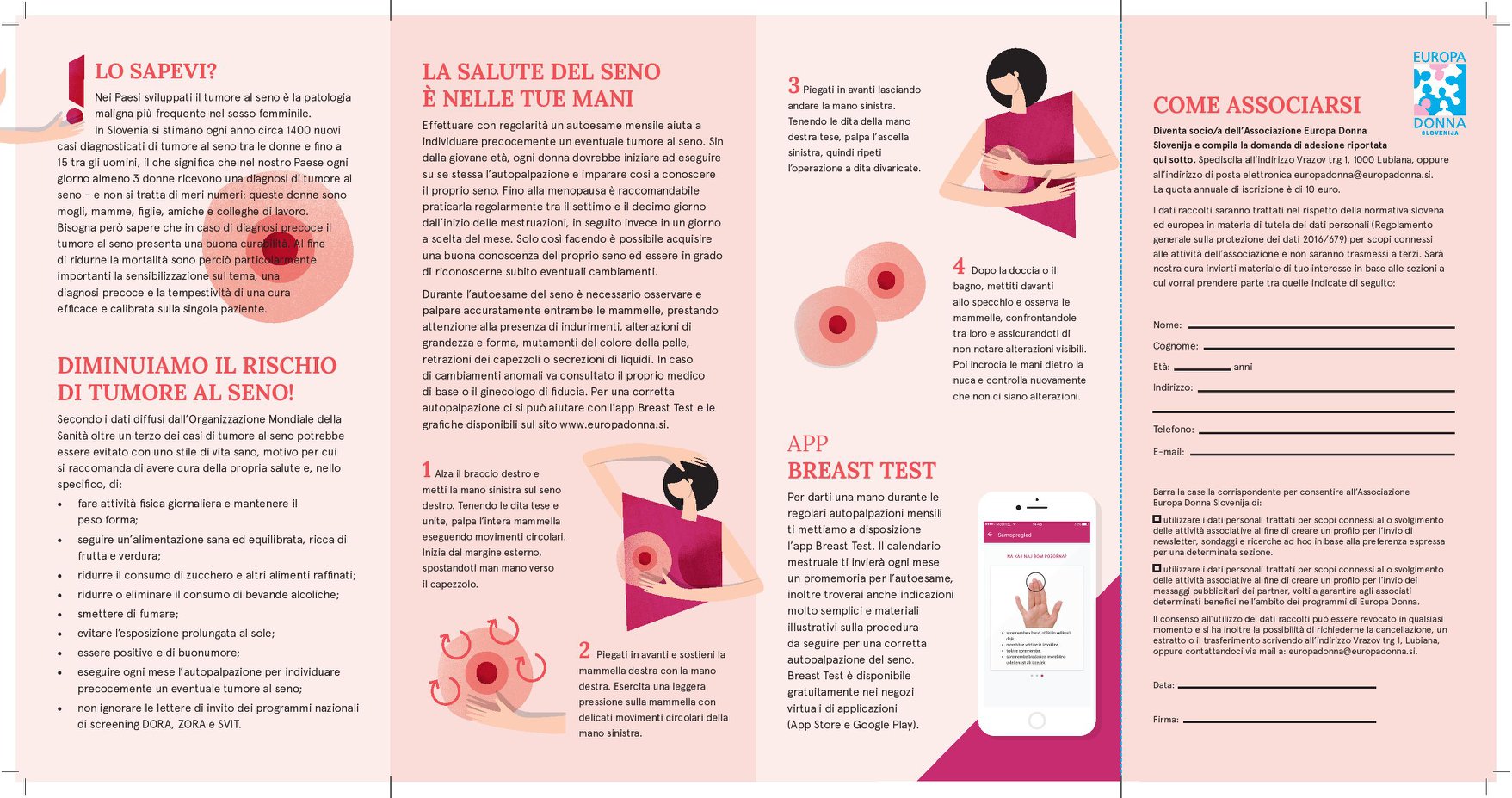 VLOGA EUROPE DONNE PRI CELOSTNI OBRAVNAVI BOLNIC Z RAKOM
Diagnoza raka vpliva na vse ravni življenja bolnice in prizadene tudi njene najbližje, poseže v odnose z družino, partnerji, starši, otroki. Prizadevamo si, da bi bolnicam ob zdravljenju zagotovili različne vrste podpore. Pri združenju Europa Donna, lahko vsaka bolnica najde sebi primerno dejavnost. Ravno tako v programu Roza poskrbimo za svojce obolelih, organiziramo tabore za otroke, izvajamo delavnice za sproščanje napetosti, stresa in travme, organiziramo pohode, športne aktivnosti, druženja in predavanja na teme, ki bolnice zanimajo tudi po uradnem zdravljenju bolezni .
Zelo pomembno je, da Europa Donna ozavešča širšo javnost o bolezni raka na dojki in o samo pregledovanju dojk, ki lahko reši življenje.
Rožnati oktober je mednarodni mesec osveščanja o raku dojk, ki je najpogostejša oblika raka pri ženskah.
V Sloveniji vsako leto zboli za rakom na dojki več kot 1300 žensk in okoli 10 moških. To pomeni, da vsak dan v Sloveniji več kot tri ženske izvedo diagnozo, vsaj ena pa umre. To niso samo številke, to so mame, žene, sestre, hčere, sodelavke, prijateljice.
10 ciljev, ki jih izvaja Europa donna:
Širi in izmenjuje informacije o raku dojk po Evropi in v svetu.
Obvešča o boleznih dojk.
Poudarja pomen ustreznega pregledovanja in zgodnjega odkrivanja raka dojk.
Prizadeva si za najboljše zdravljenje.
Prizadeva si za popolno oskrbo pred zdravljenjem in po njem.
Podpira ustrezno dodatno izobraževanje zdravstvenih strokovnjakov.
Podpira kakovostno strokovno obravnavo in pospešuje njen razvoj.
Trudi se za stalno posodabljanje medicinske opreme.
Skrbi, da ženske kar najbolje razumejo vse predlagane načine zdravljenja, da sodelujejo v kliničnih študijah in da lahko uveljavijo pravico do dodatnega strokovnega mnenja.
Podpira raziskave o raku dojk.
Europa Donna na obali deluje že dve leti, ker smo želeli, da informacije o bolezni in zdravljenju dosežejo vsako žensko in njeno družino na različnih koncih Slovenije.
Dejavnosti in informacije smo približali bolnicam na obali, kar je zelo pomembno, saj jim ni potrebno prevoziti veliko razdaljo, da bi sodelovale v programih in aktivnostih .
Smo pa na obali zelo dejavne, saj imamo redna srečanja, izvajamo predavanja, skrbimo za fizično aktivnost s pohodi, veslanji in sodelujemo z lokalnimi skupnostmi.
---
IL RUOLO DELL'EUROPA DONNA NEL TRATTAMENTO COMPLESSIVO DELLE DONNE COLPITE DAL CANCRO
La diagnosi di cancro colpisce tutti gli aspetti della vita della paziente, influenzando anche quelli a lei più vicini. Influenza i rapporti con la famiglia, il partner, i genitori e figli. Ci impegnamo di fornire alle pazienti diversi tipi di supporto durante il trattamento. Nell'associazione Europa Donna ogni paziente ha la possibilità di trovare l'attivita che più fa per lei.
Il programma Rosa si prende cura anche dei parenti dei malati, organizza campus per bambini, conduce laboratori per diminuire tensioni, stress e traumi, organizza escursioni, attività sportive, socializzazione e conferenze su argomenti che interessano le pazienti anche dopo il percorso di guarigione.
È molto importante che l'associazione Europa Donna sensibilizzi l'opinione pubblica sul cancro al seno e sullo screening del seno stesso, che può salvare vite umane.
L'ottobre Rosa è il mese internazionale della sensibilizzazione al cancro al seno, che è la forma di cancro più frequente nelle donne.
In Slovenia, ogni anno più di 1.300 donne e circa 10 uomini si ammalano di cancro al seno. Ciò significa che ogni giorno in Slovenia vengono diagnosticate più di tre donne e almeno una muore. Non sono solo numeri, sono mamme, mogli, sorelle, figlie, colleghi di lavoro, amici.
10 obiettivi che vengono effettuati dall' associazione Europa Donna:
1. Diffonde e scambia informazioni sul cancro al seno in Europa e nel mondo.
2. Informa sulle malattie del seno.
3. Sottolinea l'importanza di uno screening adeguato e di una diagnosi precoce del cancro al seno.
4. Si impegna per il miglior trattamento di guarigione possibile.
5. Si impegna per la massima cura prima e dopo il trattamento.
6. Supporta un'adeguata formazione aggiuntiva per gli operatori sanitari.
7. Supporta un trattamento professionale di qualità e ne promuove lo sviluppo.
8. Si impegna per l'aggiornamento costante delle apparecchiature mediche.
9. Assicura che le donne comprendano nel miglior modo possibile di tutti i trattamenti a loro proposti, che partecipino negli studi clinici e che possano esercitare il loro diritto ad ulteriori opinioni di esperti.
10. Sostiene la ricerca sul cancro al seno.
L'associazione Europa Donna opera nel Litorale da due anni, perché volevamo che le informazioni sulla malattia e il trattamento arrivassero ad ogni donna e alla sua familia in tutte le parti della Slovenia. Abbiamo portato più vicino le attività e le informazioni alle pazienti del Litorale, il che è molto importante, poiché in questo modo non devono percorrere lunghe distanze per partecipare ai programmi e alle attività.
Anche sul Litorale siamo molto attive, poiché abbiamo incontri regolari, teniamo conferenze, ci occupiamo di attività fisica con escursioni, canottaggio e collaboriamo con le Comunità locali.
Per il Litorale abbiamo preparato il volantino in lingua italiana per informare gli appartenenti del gruppo Nazionale italiano.
Darja Rojec, coordinatrice dell'associazione Europa Donna nel Litorale.