Letošnji 8. februar, dan, ko je v Sloveniji v središču pozornosti kultura, je v Piranu že drugič minil brez osrednje slovesnosti, s katero se lokalna oblast pokloni vsem tistim, zaradi katerih je Piran znan tudi kot kraj, kjer so doma umetnost, kultura in, seveda, številni ustvarjalci. Vsako leto se ime nekoga izmed slednjih s posebnimi črkami zapiše na posebno priznanje, ki nosi ime po najbolj znanem piranskem ustvarjalcu, Giuseppeju Tartiniju.
Letošnje, ki so ga znova podelili virtualno, je morda še kanček bolj posebno, saj mineva natanko 330 let od rojstva velikega violinista in skladatelja. Kanček? Morda bi bilo bolje reči 'za ščepec bolj posebno'. Za ščepec soli. Piranske soli. Piranskega belega zlata, kot so mu rekli nekoč, tudi pred 330. leti, ko je novopečeni oče Tartini vsak dan zapisoval natančno količino soli, ki so jo pridelale marljive roke neutrudnih solinarjev. Kdo ve, koliko belega zlata je morje obrodilo tistega dne, ko je na svet prijokal mali Giuseppe. In kdo ve, kaj bi veliki Giuseppe dejal, ko bi vedel, da so s priznanjem, ki nosi njegovo ime, obdarili skupino, ki se že 17 let trudi, da bi to stoletja staro tradicijo pridelovanja soli ohranjali, varovali in vedenje o njej prenašali na mlajše rodove.
Da, piranski župan Đenio Zadkovič je Tartinijevo priznanje v letu, ko obeležujemo 330. obletnico rojstva najbolj znanega Pirančana, podelil umetniško-kulturni skupini Skupnosti Italijanov, znano pod nazivom La famea dei salinai (Solinarska družina).
Podelitev je bila tudi priložnost za obuditev spomina na solinarski praznik, ki so ga v Piranu pripravljali ob prazniku sv. Jurija. Na ta dan so se namreč nekdanji solinarji z barkami odpravili v soline, kjer so nato delovno preživeli vse poletje. In ravno na solinarskem prazniku je leta 2004 s piranskega pomola proti solinam znova odplula barka s solinarsko družino. Takratna je bila številčnejša, kot je danes, na kar je opozorila tudi Giorgina Rebol, ki jo vodi v zadnjih letih.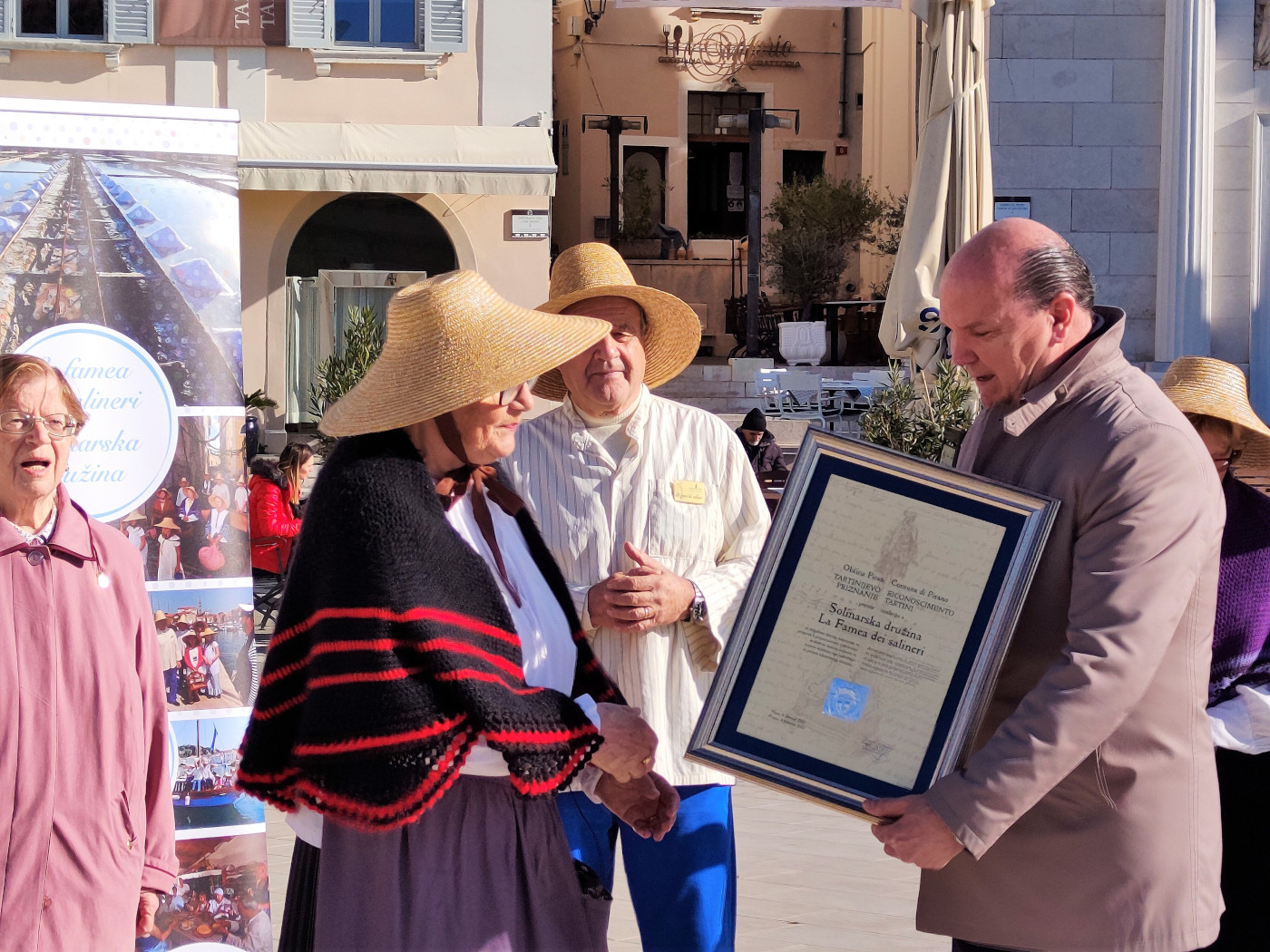 'Solinarska družina se je v vseh teh letih malce spremenila. Včasih nas je bilo veliko več. Mladi pridejo, a potem odrastejo in odidejo. Tako ostajamo bolj ali manj isti, ki ohranjamo to kulturno dediščino,' je dejala ob prejemu priznanja.
Župan Đenio Zadkovič je v svojem nagovoru izpostavil pomen, ki ga je imel in ga še vedno ima edinstven prostor solin, saj bi ga tako ohranjenega zaman iskali kjerkoli drugje.
'Proizvodnja soli je bila zaslužna za gospodarski razcvet Pirana, kar pomeni, da je tudi naša sedanjost zrasla na soli. Solinarsko družino smo nagradili tudi zato, da bi še naprej skrbela za ohranjanje solinarske tradicije in ozaveščanje mlajših rodov o specifični pridelavi naše soli, ki jo poznajo po vsem svetu,' je dejal med predajo priznanja na Tartinijevem trgu.
Giorgina Rebol in ostali člani družine so odraščali ob soli in z njo, zato, kot je dejala, ne želijo, da bi solinarska tradicija šla v pozabo. Soline so namreč v preteklosti nudile delo številnim Pirančanom in jim tako omogočile dostojno življenje. K ohranjanju spomina jih spodbuja tudi to, da so tu živeli njihovi predniki.
'Skoraj vsi so delali v solinah. Poznamo to delo, s pripovedovanjem zgodb o nekdanjih solinarjih želimo vedenje o njem prenašati naprej,' je pojasnila.
Predstavljati Piran in soline jim je tudi v veliko čast, zato jim Tartinijevo priznanje ogromno pomeni, je še poudarila solinarka Giorgina.
'Tartinijevo priznanje jemljemo kot spodbudo, da bomo celemu svetu povedali o naših solinah in načinu pridelave soli. Nikjer na svetu ne boste našli tako kakovostne soli, kot je naša,' je ponosno dejala.
Podelitev priznanja na Tartinijevem trgu so kot video voščilnico predvajali na predvečer kulturnega praznika, ogledati si jo je bilo moč na spletni strani in Facebook profilu Občine Piran.
Besedilo in foto: Nataša Fajon