Vsi se najbrž spominjamo pesmi Sapore di sale, legendarne poletne melodije Gina Paolija, ki jo še danes vrtijo na lokalnih radijskih postajah. A medtem ko okus po soli za večino med nami simbolizira brezskrbno čofotanje v morju, nekaterim predstavlja način življenja, ki jih je spremljal vse od malih nog. To velja tudi za Sergia Vuka, ki je v piranskih solinah, kjer se okus po soli prepleta s plesom vetra in petjem ptic, tamkajšnjih stalnih prebivalk, preživel toliko časa, da zase pravi, da se je tam rodil. Podobe tega načina življenja si je vse do konca poletja mogoče ogledati v eni od štirih obnovljenih solinskih hiš Muzeja solinarstva v opuščenem delu Sečoveljskih solin.
Odprtje razstave fotografij z naslovom Okusi po soli je sicer bilo predzadnje dejanje drugega letošnjega srečanja pod okriljem projekta Solinarska kulinarika, pri pripravi katerega so že četrto leto zapored združili moči Samoupravna skupnost italijanske narodnosti Piran, Skupnost Italijanov Giuseppe Tartini Piran, Pomorski muzej Sergej Mašera Piran, Zavod za varstvo kulturne dediščine Slovenije, Krajinski park Sečoveljske soline, Društvo mladih italijanske narodne skupnosti in Društvo Škver.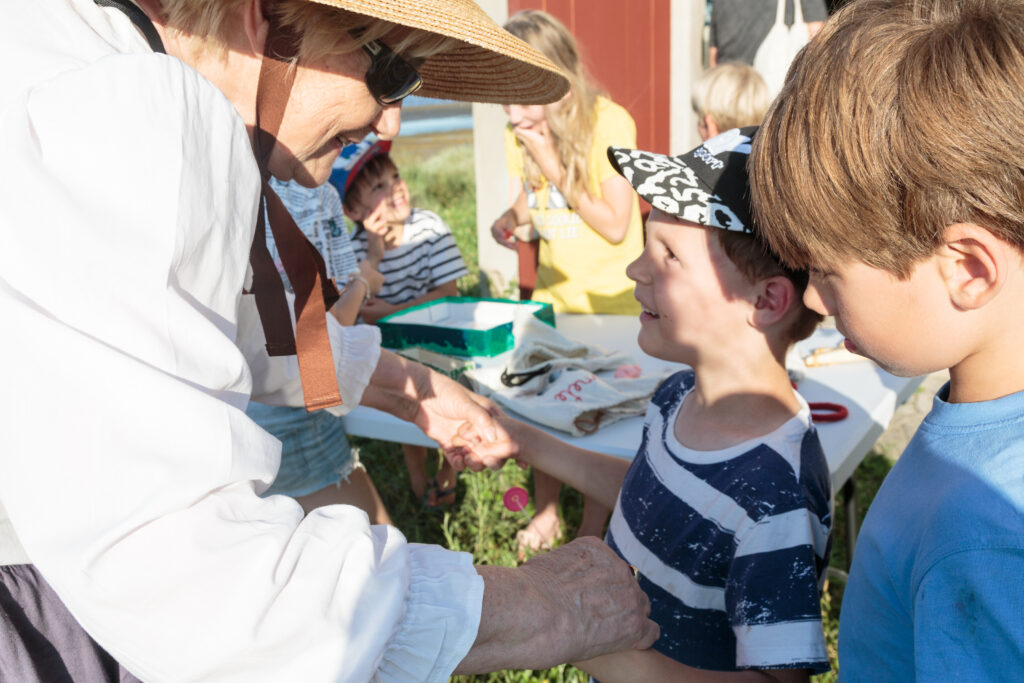 Namen predstavitve tipičnih jedi, ki so jih nekdaj pripravljali v solinah, je privabiti čim več ljudi v ta edinstven naravni dragulj, je v svojem nagovoru dejala Fulvia Zudič, predsednica SI Piran. Da obiskovalci ne bi samo poslušali o težaškem delu, ki so ga opravljali solinarji, vsako srečanje obogatijo tudi z delavnicami za otroke, predstavitvami knjig ali razstavo, kot so jo pripravili tokrat.
Razstava fotografij družine Vuk je bila v skromnejši različici že predstavljena ob odprtju restavracije La Bottega dei sapori v pritličju Tartinijeve hiše, pričujoči pa je Sergio dodal nekaj novih, ki še niso bile javno predstavljene.
»Najstarejše fotografije, na katerih so Fontanigge, je naredil oče Claudio, s fotoaparatom, ki mu ga je podaril stric leta 1957. Kasnejše so moje, z njimi sem želel prikazati tudi življenje v solinah,« je dejal Sergio Vuk, ki je tako nadaljeval očetovo poslanstvo in priskrbel pomembno dokumentarno gradivo o nekdanji dejavnosti pridobivanja soli.
Na eni izmed fotografij iz leta 1955 je tudi mali Sergio s sestro, sol pa grabita mati in teta, obe še vedno živi in zdravi.
»Zelo smo ponosni na to razstavo, saj ne prikazuje samo več desetletij dela družine Vuk, temveč priča o življenju v in s solinami,« je na odprtju povedal Matjaž Kljun z Zavoda za varstvo kulturne dediščine.
Ko je sonce v duhu velikih slikarskih mojstrov na nebu naslikalo še eno mojstrovino, je bil čas za večerjo, s katero se je tudi nekoč davno zaključil solinarski vsakdan. Tradicionalno jed »sepe con blede e finocio« (sipe z blitvo in divjim koromačem) je pripravila Sarah Vuk Brajko, glavna kuharica restavracije La Botega dei sapori in Sergiova hči.
Zaradi prevelikih proizvodnih in vzdrževalnih stroškov so leta 1968 prenehali s pridobivanjem soli v Fontaniggiah. Solinarske hišice so dolgo časa propadale, preden so dočakale obnovo, solinarski bazeni, v katerih se danes nič kaj sramežljivo ogledujeta sonce in nebo, pa dajejo slutiti, da so nekdaj opravljali pomembno vlogo v tem delu Istre. Le solinarjev ni več, namesto njih za ta čudovit prostor pod soncem skrbijo ptice, ki so si tu ustvarile svoj dom.
Besedilo in foto: Nataša Fajon