Skupnost Italijanov Piran se spominja slavnostnega odprtja Tartinijevega spomenika, ki je bila 2. avgusta 1896, z recenzijo libreta dr. Ermanna Nacinovicha TARTINI V PIRANU PO DVEH STOLETJIH. Recenzijo je napisal Tullio Vorano, libreto pa hranita zakonca Daniela Milotti Bertoni in Boris Bertoni.
Dr. Ermanno Nacinovich, ki zase pravi, da je Labinčan, čeprav se je rodil v bližnjem kraju Nedeščina, se je leta 1892 odločil, da bo posvetil odo velikemu piranskemu glasbeniku Giuseppeju Tartiniju in jo objavil pod naslovom »Tartini a Piran dopo do secoli (8 avril 1682-1892)« ( Tartini po dveh stoletjih v Piranu (8. april 1682-1892).
Leta 1892, ob dvestoletnici rojstva velikega Tartinija, so namreč prizadevni in preudarni piranski državljani sklenili postaviti spomenik svojemu slavnemu rojaku ter ga tako simbolno vrniti v njegovo rojstno mesto. V resnici je bil kip, delo največjega beneškega kiparja tistega časa, Antonia Dal Zotta, postavljen šele 1896, torej štiri leta kasneje.
Nacinovich je postal znan že leta 1886, ko je v istem tiskarskem podjetju – Emidio Mohovich na Reki – (kot prvi Italijan) objavil še danes veljavno biografijo (67 strani) znanega protestantskega teologa Matije Vlačića Ilirika (Labin, 1520-Frankfurt na Majni, 1575) z naslovom »Flacio – Studio biografico storico« (Vlačić – zgodovinska biografska študija). Zanimivo je tudi to, da je istega leta 1892 Ernesto Nacinovich, Ermannov brat (skupaj sta študirala v Zadru), pri istem reškem podjetju izdal zgodovino plemenite labinske družine Scampicchio (»La Famiglia Scampicchio«), s katero je pospremil poroko dr. Vittoria Scampicchia z baronico Lino de Lazzarini – Battiala.
Oda, z verzi v lokalnem narečju in razdeljena na deset delov, predstavlja Ermannov poklon Tartiniju. Danes je težko razumljiva, saj je napisana v zastarelem narečju, vendar jasno izraža avtorjeve osnovne ideje. Prvi štirje deli izpostavljajo najuglednejše osebnosti istrskega polotoka, medtem ko naslednji trije jasno omenjajo življenje in delo mojstra Tartinija. V zadnjih treh delih avtor izraža svoje navdušenje nad idejo o postavitvi spomenika.
V prvem delu Ermanno začne daleč, v oddaljenih časih Nezakcija, njegovega kralja Epulona, nato kot globok poznavalec zgodovine omenja nekatere znane osebnosti antične puljske civilizacije. Zgodaj zjutraj se zdi, da želi Epulon prebuditi Giuseppeja Tartinija (Bepina) in mu povedati, da njegov Piran praznuje ter da nameravajo Pirančani (in tudi vsi ljudje od Timave do Raše) počastiti njegovo osebnost s kipom, z resničnim umetniškim delom, zato ga vabi, naj se jim osebno zahvali (Va farghe de capelo/A quela nobil zente). V tem delu Ermanno izpostavi tudi ponosno kri, ki teče v žilah Istranov, saj so se znali upreti Gotom in Uskokom.
V drugem delu, potem ko omeni mizo s slastnimi domačimi dobrotami in povabljence, ki nazdravljajo Tartiniju, Ermanno nadaljuje z nizanjem starih istrskih teoloških mojstrov, kot sta bila Vergerijeva (starejši in mlajši) ter Vlačić, ki se v septiklaviju (skupina sedmih registrov, ki tvorijo sedem glasov klasičnega zbora) obrača k župniku. Nato pohvali Tartinijevo spretnost s sabljo in omenja znanega sabljača Momija Nuzia. Sledijo mu istrski pomembneži, kot so učenjak, enciklopedist, pisatelj, zgodovinar in ekonomist Gian Rinaldo Carli, zdravnik Santorio Santorio, slavni pesniki Antonio Zuliani, Tranquillo Negri, Gavardo de Gavardo, slikarja Vittore Carpaccio in Bernardo Parentin, vsestranski kanonik Piero da Barbana (Pietro Stancovich) in naposled literat Ughi (Pasquale Besenghi degli Ughi).
V tretjem delu Ermanno poudarja pomen glasbenega založnika in skladatelja Andrea Antica iz Motovuna.
V četrtem delu se avtor posveti posebnemu istrskemu dragulju – Parencani, znani železniški progi, ki je nekoč povezovala Trst s Porečem, in izkoristi priložnost, da omeni nekaj pomembnih krajev: Portorož, Savudrijo, San Lorenzo. Del se konča s trditvijo, da ne obstaja ne pesem, ne melodija, ne domišljija, ki bi lahko izrazili veselje in srečo vseh Istranov ob postavitvi Tartinijevega spomenika.
Peti, zelo kratek del predstavlja jedrnat, a čudovit povzetek Tartinijevega življenja:
"Son qua. Ve digo come fusse ancoi:
La vita del putel, la mia famegia,
I Filipini, el chierego; la leze,
El Bo, la scherma, le schincae, l'amor
Co la mia tosa e po mugier; la fuga,
La smara del Corner, el queto Assisi;
Dopo el perdon: l'artista, el studio e 'l nome."
Tu sem. Povem vam, kot če bi to bilo danes:
Otroštvo, moja družina,
Filipini, klerik; pravo,
El Bo (univerza v Padovi), sabljanje, ljubezen
S svojo zaročenko in nato ženo; beg,
Nasprotovanje Cornera, spokojnost Assisija;
Po odpuščanju: umetnik, študija in ime."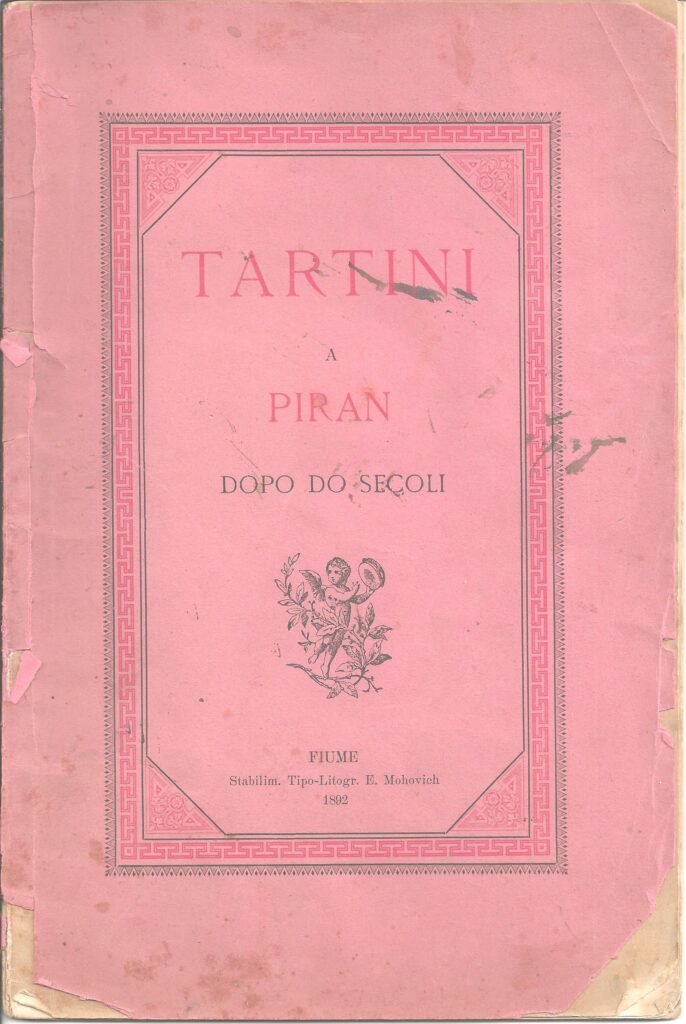 Ob Ermannovi pripovedi o Tartinijevem življenju dobimo občutek, da poslušamo samega skladatelja, ki nam pripoveduje v prvi osebi: otroštvo, preživeto z družino v Piranu; prvo šolanje v oratoriju svetega Filipa Nerija; želja staršev, da bi postal frančiškanski duhovnik; ker se s tem ni strinjal, so ga poslali študirat pravo na Univerzo v Padovi; hkrati se je izkazal kot spreten sabljač; zaljubil se je v precej mlajšo Elisabetto Premazore, nečakinjo kardinala in nadškofa Giorgia Cornara (ali Cornera) iz Padove; poročila sta se na skrivaj, 27. julija 1710, po smrti očeta, ki je nasprotoval poroki, in ker je tej nasprotoval tudi stric in kardinal, ki ga je želel spraviti v zapor, je zapustil nevesto in pobegnil najprej v Rim, nato pa v različne kraje; našel je varno zatočišče v asiškem samostanu; kasneje mu je kardinal odpustil in mu dovolil, da se pridruži ženi; nato se je uveljavil kot violinist in skladatelj ter postal zelo slaven.
Tudi šesti del govori o Tartinijevem življenju, glasbenih večerih v hiši Mocenigo v Benetkah, prihodu prijatelja in znanega violinista Francesca Marije Veracinija iz Firenc, zavisti, lažeh, zahrbtnosti ljudi, ki pa jih je s svojim spretnim igranjem violine uspel premagati; nato so Padovanci uživali v njegovi glasbi in on, zdaj že imun na slavo in denar, si je lahko privoščil zavrniti oddaljene nastope ter imeti nekaj koncertov v različnih italijanskih mestih.
Sedmi del je posvečen predstavitvi najbolj znanega in slavnega Tartinijevega dela – sonati Vražji trilček, ki mu je prinesla svetovno slavo.
V osmem delu Ermanno v imenu celotne istrske province hvali pobudo postavitve spomenika in si zaželi, da bi nekoč tudi vsi prej omenjeni slavni ljudje dobili svojega, saj sklene: seveda obstajajo stroški, a stvar prinaša veliko zadovoljstva (La costa pochetin/ la fa piasér (Majhen strošek, a veliko veselje).
V devetem delu Ermanno izrazi svoje navdušenje nad ugodnim in naprednim ozračjem (la civiltà nostrana (domača civilizacija), ki se je razvilo v Istri, na vseh področjih, ter si želi, da bi trajalo.
Deseti in zadnji del vsebuje samo tri kitice, a je zelo pomenljiv: Preteklost in sedanjost, Istra in Piran, se tesno držita za roke (Passà e presente/Istria e Piran/Ah stretamente/Deve una man!(Preteklost in sedanjost/Istra in Piran/Ah, tesno/si podajta roko!), in potem: v harmoniji najdem ljubezen do domovine in slutim bogastvo (Ne l'armonia/Trovo l'amor/De patria mia,/ Vedo el lusor.(V harmoniji/ Najdem ljubezen/do svoje domovine,/ Vidim sijaj.), zaključuje pa: objemam vas in pozdravljam, naj zgodba prehaja od očeta na sina, da ostane v vašem spominu (Ve abrazzo. Adio./Conti l'istoria/ Da pare in fio/Vostra memoria (Objemam vas. Adijo./ Naj zgodba/ Za vaš spomin/ Prehaja od očeta na sina).
Mi pa lahko rečemo: Ermanno Nacinovich, odličen poznavalec zgodovine Istre in njenih izjemnih osebnosti, dobro obveščen o življenju in delu Giuseppeja Tartinija, je s to Odo želel izkazati spoštovanje slavnemu umetniku in pogumnim Pirančanom, ki so se odločili, da mu postavijo spomenik, vreden njegove slave.