V prazničnem času smo vsi vsaj malo bolj veseli in poskočni, saj nam najrazličnejše šege in navade, ki spremljajo posamezne praznike, narišejo nasmeh na obrazu in navdajo z upanjem. Še posebej se prazničnemu vzdušju prepustimo ob koncu leta, ko drug drugemu zaželimo, da bo prihajajočih 365 dni čim bolj obsijanih s soncem. Želja po boljših časih je v zadnjih dveh letih pridobila na moči, saj nam je epidemija krepko okrnila vse tiste stvari, ki smo jih imeli za samoumevne. Med njimi predvsem druženje s sorodniki, prijatelji, znanci.
V Skupnosti Italijanov Piran so si zato zamislili, da bi lahko v domove svojih prijateljev nekaj veselja prinesli vsaj na daljavo, če že osebno ne morejo. Tako so v zadnjih dneh decembra z uporabo spletne platforme za video komunikacijo Zoom v vsak dom prinesli eno najstarejših in najbolj priljubljenih iger – piransko tombolo. Kar dvakrat so jo igrali, prvi so bili na vrsti odrasli, nato pa še učenci OŠ Vincenzo in Diego de Castro. Tombolo je seveda vodila nepogrešljiva Ondina Lusa, ki je sicer več kot 30 let žrebala številke iz svoje posebne malhe na tradicionalnem prazniku vina v Restavraciji Pavel. Zato smo jo ob koncu leta obiskali, da nam pove nekaj več o njej in drugih igrah, ki so zaznamovale novoletne praznike nekoč.
Prvič so tombolo v Piranu priredili že davnega leta 1886. Veljala je za družinsko igro, ki so jo igrali ob večjih praznikih, na katerih se je zbrala vsa družina. V podobnem vzdušju je potekala tudi tombola takratnih meščanov, saj je prireditev prebivalce povezala v veliko družino. Številke so iz bobna žrebali na balkonu občine, nato pa so bile prikazane tako na tamkajšnji tabli, kot tudi na tablah, postavljenih na današnjem Prvomajskem trgu in Trgu bratstva. V notranjem mandraču je stal oder, ki je bil narejen iz plovil, vezanih prav za to priložnost, namenjen pa je bil godbi, ki je spremljala žreb. Zbrana sredstva so namenili delovanju takratnega doma za onemogle (Pia Casa di Ricovero).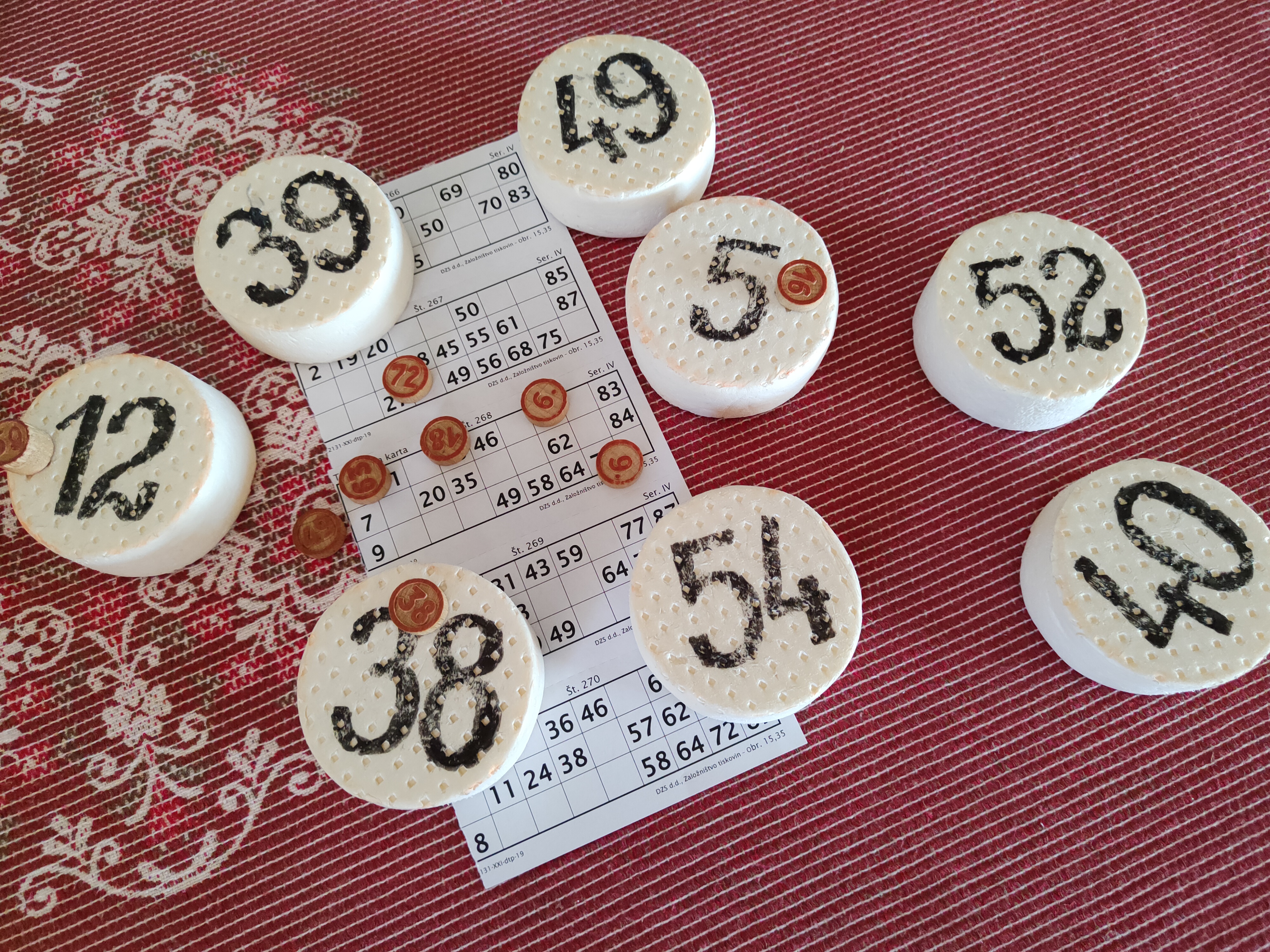 Igranje tombole je v Piranu imelo prav posebno tradicijo, ki so ji ljudje sledili iz roda v rod. Ondina Lusa se rada spominja svojega otroštva, ko so ob toplih poletnih večerih tombolo igrali kar na trgu, v hladnih zimskih večerih pa pri njih doma. Igro je vodila nona, ki je tudi žrebala številke.
"Vsak je s seboj prinesel svojo tablico s številkami, češ da prinašajo srečo, in nikoli je niso zamenjali z nikomer. Izžrebane številke so označevali s fižolčki, ki so se pogosto odkotalili in povzročali veliko zmedo," je povedala Ondina.
Tudi takrat je vsak igralec imel pet tablic na enem listu, a kot je pojasnila, se številke niso ponavljale tako kot danes, ko ima več tablic isto številko.
'Težko je igrati s takšnimi tablicami, saj se pri vsakem dobitku pojavi več ljudi, kar pomeni, da potrebuješ veliko nagrad ali pa o zmagovalcu odloči žreb,' je dodala.
Posebna zanimivost piranske tombole je bila navada, do so številke poimenovali s šaljivimi reki in zbadljivkami (motti e frizzi), ki so med igralci izvali veliko smeha in veselja. Vsaka družina je imela svoje reke za številke, ki so se med seboj razlikovali. Številka 7 je recimo podobna pipi, zato so ji v Ondinini družini rekli "županova pipa", številki 11 so rekli "par drogov iz Seče", ker je nekoga spominjala na drogova, ki ju je videl v Seči, številka 77 je dobila ime "ženske noge" … Ondina še danes ponosno hrani poimenovanja številk, ki jih ji je zapustila draga nona.
'Kdor je prišel k nam, je moral poznati nonine reke, sicer ni mogel igrati. Vsak je s seboj tudi kaj prinesel, pa tudi plačati so morali. Tombole nisi mogel igrati, če nisi plačal. In nisi vedno zmagal. A bistvo je bilo v druženju. Med tombolo smo se smejali, hecali, pojedli kakšno kroštolo, in ko smo eno zaključili, smo igrali še enkrat,' se spominja Ondina.
Poleg tombole so bile med prazniki zelo priljubljene tudi igre s kartami. Ondina je prava poznavalka tudi teh, in medtem ko nas večina pozna bolj ali manj znane igre, kot sta denimo briškola in trešet, sama iz rokava strese še takšne s poimenovanjem v piranskem narečju, kot so Cucù, Dame una, dame do, ki se igrata v dvoje, Il gioco del piticcio, ki se lahko igra v dvoje ali skupini, Sette e mezzo, ki se igra v skupini in Passatempo ali Solitario, ki jo igra en sam.
Posebej je izpostavila igro Cucù, pri kateri lahko sodeluje veliko igralcev, zmaga pa te navda s posebnim občutkom zadovoljstva. Sploh, če je v igri denar.
'Pri nas si kupil fižolčke. Slednji so bili zelo pomembni, saj ni bilo drugega. Vodja igre je tako določil, da za 6 fižolčkov daš recimo 1 evro. To ni ne vem kakšen znesek, a če je igralcev veliko, ti zmaga lahko prinese kar nekaj denarja,' je pojasnila.
S kartami za briškolo so igrali tudi igro, ki se je imenovala Pappalugo in se je igrala enako kot Črni Peter, le da je bil ta špadin fant.
Ondina je tombolo igrala tudi z otroki, saj je od leta 1995 na lucijski šoli skrbela za učence v podaljšanem bivanju. Pri vseh igrah je govorila v narečju, kar pomeni, da so se učenci skozi igro naučili govoriti in brati v nekdanji piranski govorici.
'Doma so jim stari starši povedali svoje zgodbice v narečju, in ko so otroci prišli naslednjič v podaljšano bivanje, so jih pripovedovali vsem nam. Zadnja ura pa je bila vedno rezervirana za tombolo,' je poudarila.
Ta je bila učencem tako všeč, da so se njene priprave lotili kar sami. Tombola je potekala v prestižnem portoroškem Hotelu Palace, v dvorani, ki jo krasi velik kristalni lestenec. Glas o svečanem in zabavnem večeru je očitno romala v sosednjo vas, saj so kasneje tombolo igrali še v slovenski šoli v Piranu, kjer so se njene priprave lotili v enem izmed krožkov.
'Igrali so jo v piranskem narečju. Seveda so me povabili, mi podarili šopek rož in sliko. Sedela sem tam v prvi vrsti in … Bilo je čudovito! Lepi spomini so to,' je Ondina z zadovoljstvom opisovala svoje dogodivščine z učenci.
Zadnjih deset let se je naša ljubiteljica družabnih iger posvečala po njenih besedah 'moderni igri s kartami' Pinnacolo (ameriška igra Pinochle), ki se igra s kartami za remi, a o njej ni pripovedovala z navdušenjem, češ da je veliko preveč zahtevna.
Igre, ki jih je predstavila Ondina, so igrali s kartami za briškolo in za remi. Liki in simboli na kartah se razlikujejo glede na to, od kod prihajajo. Tako poznamo francoske karte, ki jih sestavljajo pik, srce, kara in križ, vsak simbol pa ima tri karte s figurami in deset igralnih kart. Nemške karte sestavljajo srce, kraguljček, list in želod, vsak simbol ima tri karte s samo moškimi figurami, enico (as) in igralne karte od deset do sedem. Podobne so švicarske, ki vsebujejo želod, ščit, vrtnico in kraguljček, vsak simbol ima prav tako tri karte s figurami, trak, as, ostale karte pa so od devet do šest. In še latinski komplet kart, tudi italijanski ali španski, kjer so simboli kovanec, čaša, meč, gorjača (denari, coppe, spade, bastoni), vsak ima tri karte s figurami, ostale pa so od ena (as) do 7, 9 ali 10. Pri nas so najbolj v uporabi francoski liki v notranjosti Slovenije in latinski na Primorskem.
Za prihodnje novoletne praznike si najbrž vsi želimo, da bi se ponovno lahko družili brez kakršnihkoli omejitev. In v miru 'vrgli kakšno karto', predvsem pa se od srca nasmejali.
Besedilo: Nataša Fajon
Foto in video: Nataša Fajon