Voden ogled pokopališča? Zakaj pa ne. V tujini ni nič nenavadnega, če obiskovalci mest v svoje oglede znamenitosti vključijo tudi pokopališče. Tudi to namreč priča o preteklosti, običajih in načinu življenja tistih, ki so tam bili pred nami. Nekatera mesta v Sloveniji že nekaj časa vabijo obiskovalce, da si vzamejo čas in se sprehodijo po zadnjem domovanju njihovih prebivalcev, druga pa to storijo vsaj konec maja ali začetek junija, ko potekajo Dnevi dediščine evropskih pokopališč. Slednje obeležuje Združenje evropsko pomembnih pokopališč (ASCE), največja organizacija, ki ohranja in predstavlja pokopališča kot pomemben del kulturne, zgodovinske in umetnostne dediščine Evrope.
Ker je v evropsko združenje vključeno tudi piransko pokopališče, so v Javnem podjetju Okolje Piran združili moči s tamkajšnjo Skupnostjo Italijanov Giuseppe Tartini in povabili prebivalce in obiskovalce k ogledu pokopališča ob spremljavi dveh poznavalcev, ki bi o večnem počivališču pokojnih Pirančanov lahko govorila veliko dlje kot je trajal sprehod na vroč dopoldan zadnjega majskega dneva.
Daniela Milotti Bertoni, zgodovinarka v pokoju, ki je dolga leta delala v piranski enoti Zavoda za varstvo kulturne dediščine Slovenije, in Aljoša Pucer, skrbnik piranskega pokopališča, sta vsak v svojem jeziku pripovedovala zgodbo o preteklosti, ob kateri je čas tekel tako hitro, da bo tovrstne sprehode nujno ponoviti večkrat.
Staro mestno pokopališče se je stoletja poprej nahajalo v bližini župnijske cerkve sv. Jurija, ob vrtu današnjega Pastoralno kulturnega centra Georgios. Drugo pokopališče naj bi bilo ob cerkvi sv. Frančiška, kjer so nedavno odkrili kar nekaj posmrtnih ostankov. Ugledne piranske družine so si postavljale grobnice v samih cerkvah, med njimi je najbolj znana grobnica družine Tartini v cerkvi sv. Frančiška.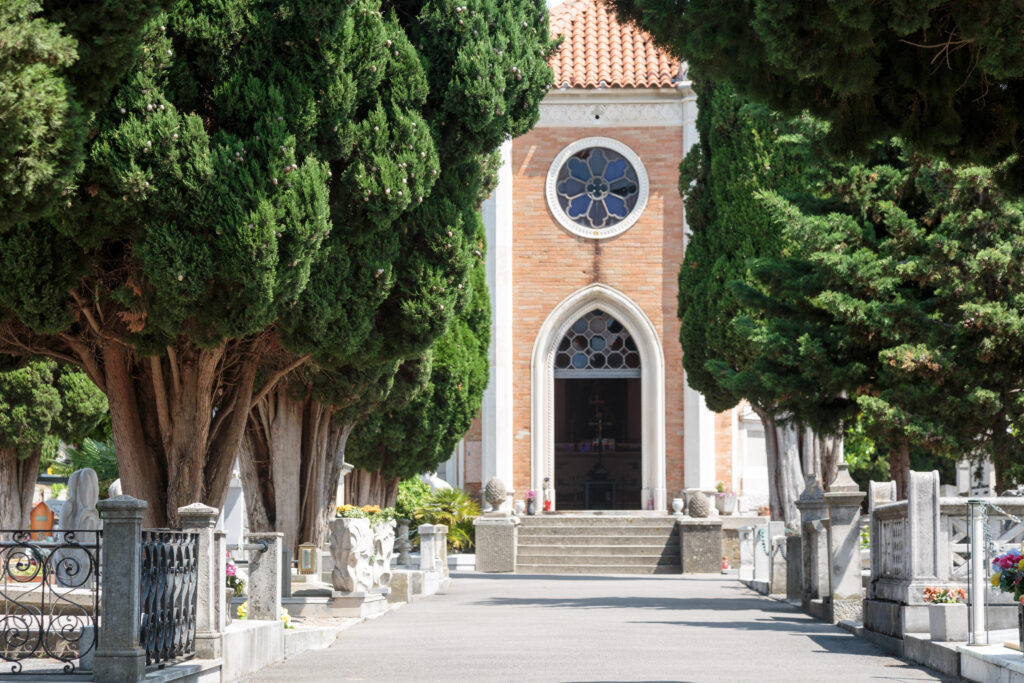 Z Napoleonovim ediktom v začetku 19. stoletja so se morala vsa pokopališča umakniti izven mestnih obzidij. Pirančani so načrtovali izgradnjo pokopališča »extra muros« že veliko pred tem, okrog leta 1765, vendar so resne priprave stekle šele v prvem desetletju 19. stoletja. Projekt je izdelal Pietro Gregoretti in leta 1812 je bilo novo pokopališče na današnji lokaciji dokončano. Ker je simbol vseh istrskih pokopališč cipresa, so leta 1893 naročili 62 cipres, ki še danes nudijo zavetje grobovom, spomenikom in sprehajalcem. Obstoječe piransko pokopališče je eno najstarejših na obali in ima zelo bogato zgodovino.
Po petdesetih letih se je na novem pokopališču že pokazala prva potreba po razširitvi. Istega leta so zgradili tudi vhodno vežo, stanovanje za čuvaja pokopališča ter pokopališko kapelico za izvajanje pogrebnih obredov.
Posebnost piranskega pokopališča je kostnica, imenovana »L'ossario di Pirano«, ki so jo zgradili leta 1939 za shranjevanje kosti iz prekopanih grobov. Iz knjige »Registro dell' ossario« lahko razberemo, da je služila svojemu namenu do leta 1963.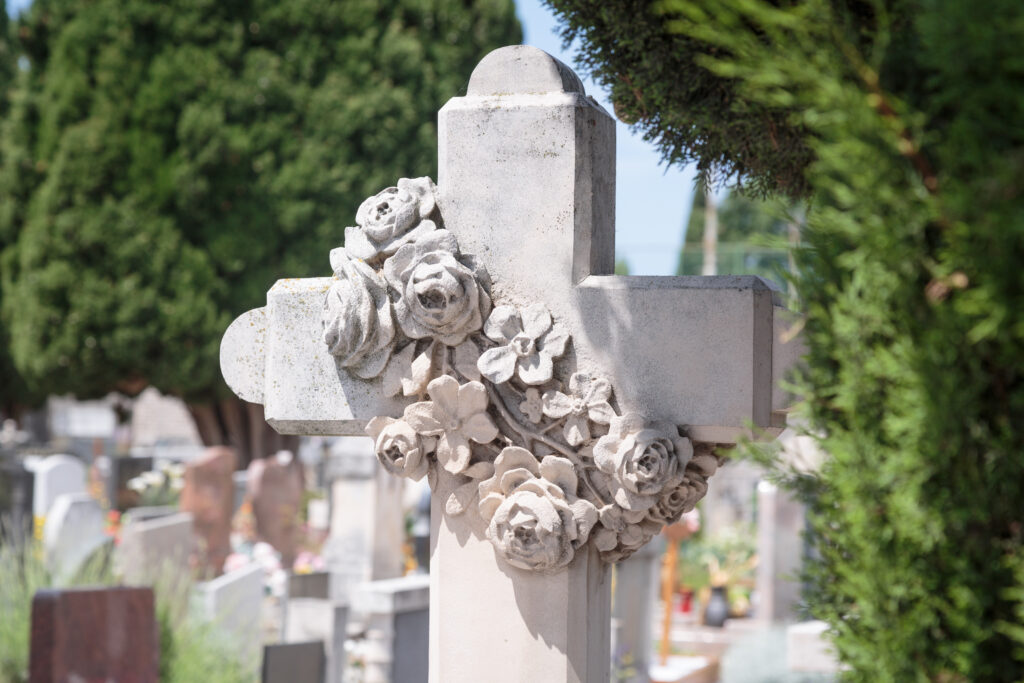 V času Italije je veljalo, da se pokojnike, ki so zakopani v zemlji več kot 10 let, ko mine mirovalna doba, prekoplje. To ni veljalo za družine, ki so imele svoje družinske grobnice in grobove in so tudi drago plačevale zanje. Ostale v vrstnih grobovih se je po desetih letih prekopalo. Če so svojci po izteku tega obdobja plačali še za nadaljnjih deset let, so dali posmrtne ostanke v leseno škatlo z imenom, priimkom ter sliko, in jo spravili v kostnico, če pa niso, so ostanke dali v skupno kostnico.
Podobne kostnice ni nikjer v Sloveniji, obstajajo samo skupne, kamor so odlagali kosti vseh prekopanih pokojnikov. Točno število posmrtnih ostankov v piranski kostnici ni znano, saj obstajata dva različna podatka. Po enem naj bi kostnica hranila ostanke 382 pokojnikov, po drugem iz leta 65 pa so jih našteli 206.
O običajih in načinu življenja v preteklosti govorijo tudi sami grobovi, med katerimi izstopajo grobnice najstarejših piranskih plemiških in meščanskih družin: Apollonio, Fonda, Corsi, Viezzoli, Tamaro, Bartole, Bubba, Venier, Petronio, Zarotti, Ravalico, Rota. Najbolj veličastna je leta 1939 zgrajena grobnica – kapela de Castro, najstarejše dokumentirane piranske patricijske družine. Zanimivo nagrobno plastiko predstavljajo tudi spomeniki v obliki obeliska. Največji in najbolj ohranjen med njimi je tisti, ki krasi grobnico arhitekta Lorenza Furiana iz leta 1861.
Piransko pokopališče je bilo leta 2018 razglašeno za spomenik lokalnega pomena, za njegov ogled se lahko obiskovalci obrnejo na Aljošo Pucerja, ki jim ga bo z veseljem razkazal, zagotovo pa bodo vodene oglede, kot je bil majski, pripravili še kdaj.
Besedilo in foto: Nataša Fajon