Odnos med Tartinijem in njegovo rodno Istro je bil vedno zavit v tančico dvoma. Pod njo so se kopičila vprašanja, kot so, zakaj se ni nikoli vrnil v svoj Piran, si je tega sploh želel, so se v Istri zavedali veličine svojega rojaka, ko ga je častila vsa Evropa, in še kaj bi se našlo. V času, ko je nad Piranom bdela italijanska zastava, so svojemu someščanu, ki sicer v večnosti počiva v Padovi, kjer je tudi preživel večino svojega življenja, poklonili nekaj časti, največja med njimi je, seveda, postavitev spomenika sredi osrednjega mestnega trga, ki so ga poimenovali po njem. A prav ta poklon, ki najbolj vidno priča o njegovem obstoju, danes, ko je Piran že več kot sedem desetletij slovenski, ne vzbuja več (dovolj) pozornosti, kaj šele, da bi človeku, ki ga predstavlja, priznali status, ki si ga zasluži. In če že pogledamo skozi prste nekaj povojnim generacijam, ki državljanu takratne Beneške republike očitajo neko čudno politično pripadnost, bi lahko človeka, ki so mu nadeli nazive, kot sta 'prva violina Evrope' in 'učitej narodov', na primeren način približali vsaj mladi generaciji, neobremenjeni z vojnimi in povojnimi grehi.
Po zaslugi projekta Tartini 330, ki poteka ob 330. obletnici skladateljevega rojstva, se je Giuseppe Tartini dotaknil mlade umetnice iz Izole, ki je na odprtju razstave, 23. junija 2022, priznala, da o njem ni vedela skoraj ničesar, spoznavanje njegovega življenja pa je navdihnilo sedemnajst del, ki so jih prav v sklopu omenjenega projekta razstavili v Tartinijevi hiši. Žana Šuran je svojo prvo samostojno razstavo poimenovala Tartini, nice to meet you, naslovom, ki nosi v sebi vse tisto, kar zaznamuje tudi sleherno delo; iskrenost, mladostno navihanost, humor in iskrivost. Če izpostavimo še dejstvo, da je za njen nastanek 'kriv' slučaj, ki je vodjo projekta, Dragana Klarico, ponesel na kavo v koprski bar Cameral, čigar stene so ravno takrat krasile Žanine ilustracije, dobi razstava še, lahko bi mu rekli, magičen dovtip.
Mlada ustvarjalka se je naloge lotila zelo resno. Tartinija in njegovo življenje je preučila tako podrobno, da vsakdo, ki se je z njima že seznanil, že ob bežnem preletu sedemnajstih razstavljenih del z lahkoto sestavi pristno zgodbo o tej izjemni osebnosti. Delčki te zgodbe, ki jih je Žana umetelno in izvirno prikazala na platnu, govorijo o Tartinijevih osebnostnih lastnostih, ki so ga na njegovi poti vedno poganjale naprej, navzgor, vedno višje, vedno dlje, pripovedujejo o dosežkih, zaradi katerih se je zavihtel na sam vrh glasbenega Olimpa takratne stare celine, izžarevajo njegovo predanost in zavezanost umetnosti in znanosti, ki jima je posvetil sleherni svoj dih.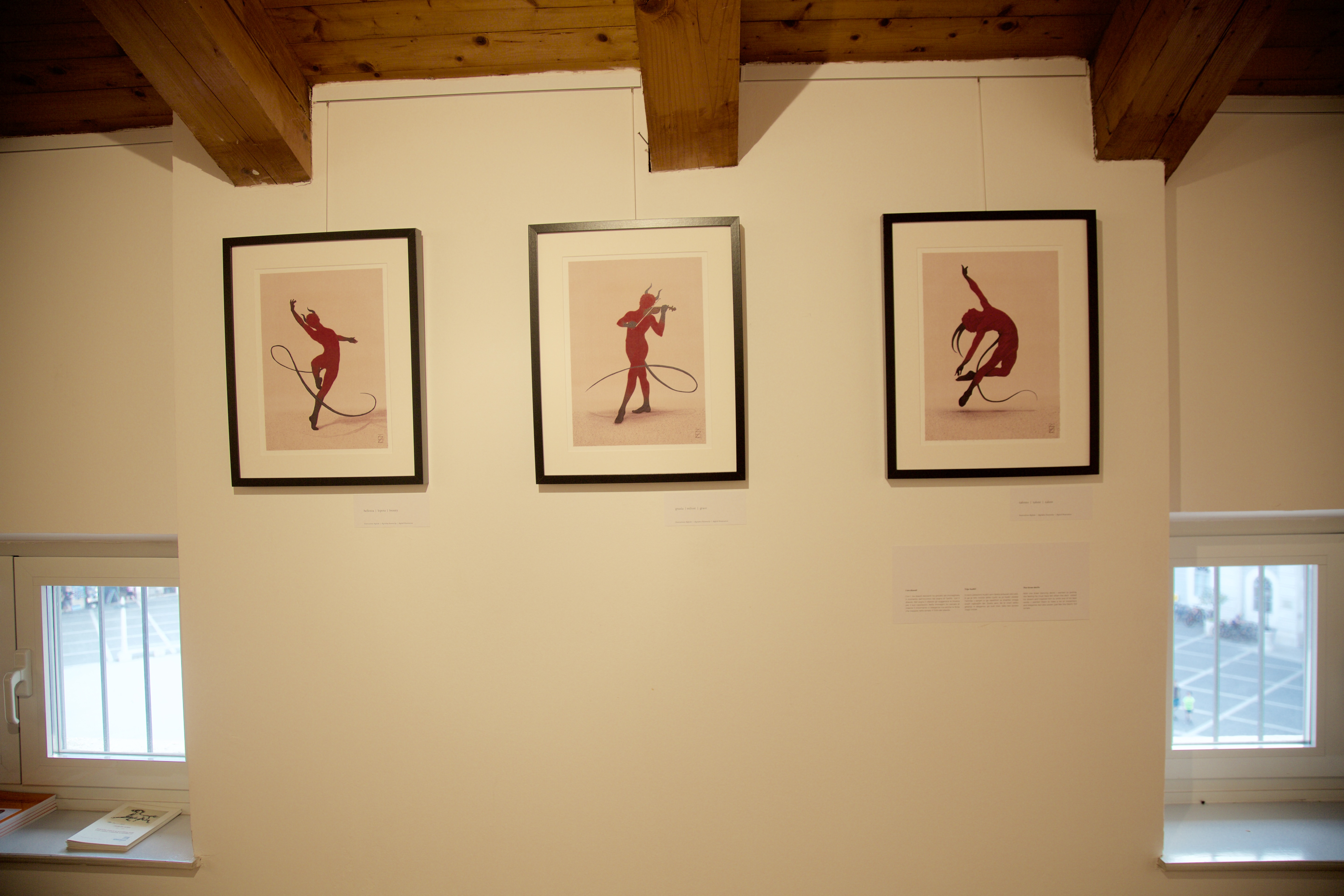 Tudi likovni kritik Dejan Mehmedovič je v svojem nagovoru izpostavil, da 'imajo dela v ozadju nek ali humoren ali zelo prefinjen način prikaza neke vsebine'.
'Avtorica se igra z besedami, predmeti, drugimi elementi in pripoveduje zgodbo o nekom, ki je v svojem življenju doživel takšne in drugačne prigode, in te so izpostavljene. Drobne stvari, s katerimi ustvarjalec na likovni način pripoveduje,' je dejal.
Po njegovih besedah je Žana Šuran zelo izvirna, razmišlja, prav tako pa je pri svojem delu izjemno natančna.
'Elementi v njenih delih imajo dinamiko, ki je zelo izrazna, likovno pa so zelo kvalitetno obdelani,' je še dodal Mehmedovič.
O izvirnosti pričajo tudi zapisi, ki spremljajo vsako ilustracijo, z njimi namreč obiskovalcu ponudi svojo interpretacijo dela, kar bo tistim, ki se bodo s Tartinijem srečali prvič, v veliko pomoč. Simpatična umetnica želi torej zgodbo o posebnem Pirančanu čim bolj približati ljudem, da bi tudi njih navdušila tako, kot je njo.
'Bila sem popolnoma očarana med spoznavanjem zanimivosti o njem, ki jih navadno, ko preučuješ neke genialne osebnosti iz preteklosti, ne srečaš. Ko sem brala o njem, sem si vse zapomnila, kar je presenetljivo, ker sicer zelo slabo berem. Smo generacija, ki ne bere več veliko … Nekaj me mora res zanimati, da me pritegne,' je pojasnila avtorica.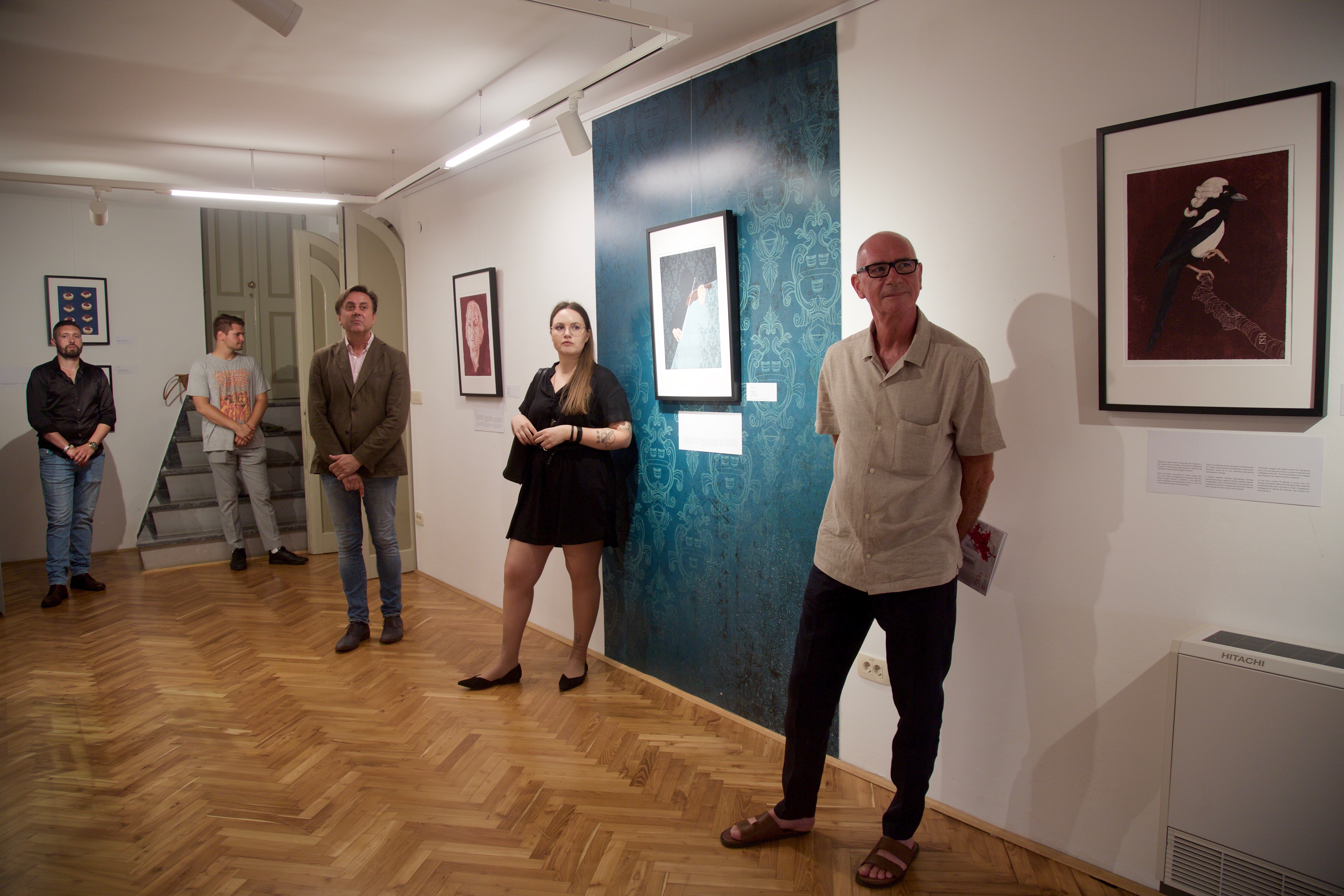 Kot nam je zaupala, so se nekatere zamisli porodile v hipu, za druge pa si je najprej zapisala, kaj želi sporočiti, nato pa iskala vizualne elemente, ki bi to podprli.
'Takoj sem dobila idejo za delo razsvetljevalec, ker imam romantično predstavo o tem, da glasba razsvetljuje, za tortine, kot v Trstu rečejo nekakšnim brusketam, in za serijo treh plešočih hudičkov, ki izpostavljajo gibanje, energijo in lepoto melodije, o kateri je Tartini sanjal,' je dejala mlada umetnica.
Žana Šuran je zelo previdno izbrala elemente, ki jih je nato upodobila na svojstven in zelo dinamičen način. Tako eni simbolizirajo Tartinijevo življenje, z drugimi pa je zelo premišljeno izpostavila njegove lastnosti. V spomin se ji je zapisal predvsem kot upornik in šaljivec, hkrati pa sabljač, violinist, znanstvenik.
S svojo prvo samostojno razstavo je zadovoljna, čeprav je upala, da ji bo uspelo ustvariti več del. Giuseppe Tartini torej ni nek dolgočasen zgodovinski težak, o katerem bi poslušali le na eno uho in v trenutku pozabili slišano, ampak zanimiva osebnost, ki predstavljena na primeren način lahko pritegne tudi mlajšo generacijo. Tako kot je Žano Šuran, ki upa, da ga bo tudi s pomočjo njene razstave spoznalo veliko mladih. Slednje nagovarja že naslov Nice to meet you, ki po njenih besedah izraža mladostnost in spoznavanje z nečim novim, vznemirljivim.
'Kdor ne pozna Tartinija, veliko zamuja. To je njihova izguba, ker je res zanimiva osebnost,' je še dodala avtorica razstave, ki je bila v Tartinijevi hiši na ogled do 3. julija, nato pa se je 14. julija preselila v v izolsko galerijo Insula.
Besedilo in foto: Nataša Fajon